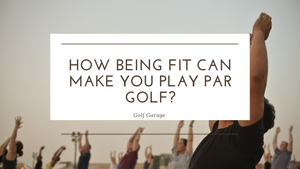 How Being Fit Can Make You Play Par Golf?
The key to playing par golf is to focus on more than just golf techniques, and pay attention to your entire body. Fitness is key to any sport, whether you're running up and down a basketball court, throwing a football or playing the links. Without a proper fitness routine, your body is not going to be able to deliver the results you need.
When it comes to golf, there are four basic elements to good fitness: balance, flexibility, strength and endurance. You will want to assess how well you currently perform in each of these categories to determine how you should plan your fitness routine. If you find that one area poses difficulties for you, you will want to begin slowly in that area and work up to harder exercises and stretches. As with any new fitness routine, make sure your doctor has cleared you to begin.
Balance is essential in golf. Golfers who have exceptional balance will have more efficient reaction times and movement speed, because improved balance allows them to execute weight transfer and hip rotation without jeopardizing a stable address position.
Also Read: Alignment - The Most Important Lesson in Golf
Flexibility allows your muscles to extend through their full range of motion when you swing; it is actually the single most important physical characteristic likely to influence your golf swing. If your body is tight in any one area, your swing is going to be hindered and swing compensations begin.
Strength is what provides you with power behind your swing and distance to your drive. In addition, adding strength to your "golf muscles" will help prevent injury. In golf, focus on your "go" muscles and not your "show" muscles.
Finally, endurance is what keeps your game in peak performance whether you are teeing off on the first hole or sinking a putt on the last hole. If you have stamina and endurance, you can count on a good performance throughout your game and not worry about fatigue setting in midway through.
All of these areas can be addressed through exercises and stretches incorporated into a fitness routine. Once your body can meet the demands of your golf game, you have a basis to build upon by perfecting techniques and skills. Together, these tasks will turn you into a par golfer.
In India yoga has been there for hundreds of years and it is a proven science. YouTube could help you to start on this journey. Yoga and pranayama are sure shot ways to improve your fitness, flexibility as well as focus when it comes to golf. Remaining fit will not only help you to shoot par, but also to live a longer and healthier life. 

Also Read: Staying Sharp During the Lockdown
---