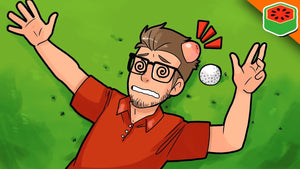 "Fore Right"- By Amit Misra
Ever since I have come to my senses, I have understood two things that a man is always trying to overcome – Golf and women…well we don't really succeed in either of them. Ends up in frustration, rejection, anger, crushed ego etc.
So I decided to take up golf, at least you get a beer at the end and there are so many like you,only a few reporting they did well, only for that day.
Tomorrow is another day at golf. 
A few things amaze me about this game – the best of players are still worried about the take away and the set-up, when they have practiced it a million times, and still won with the take away they have.  Don't get me wrong, I mean the best of them, Tiger, Rory, the best.
The second is the home course. Play there in and out..weekends/holidays – yet you wonder why are the trees there. The golf course never changes, the trees never change their position, the hazards never change, our clubs don't change, the weight of the ball doesn't change, and the wind may make a difference of 10-20 yards. With all this we can never make the fairway or the green and we are told to make an up and down.
I see only down!
So I hired a coach… a few ...they gave up on me ,the current one is giving his best. I continued to try and overcome. And it was down again, till I was given some sensible advice.
Enjoy it!
I heard that, several times – enjoy it! But those saying this are heard cursing all over. Blaming the poor bird flying over Alaska for a bad shot.
Slowly, I did start to enjoy it. Actually laughed at my own shots and I still wonder how the hell did I make the fairway or the green in regulation. My take away and the set up changes with my moods…now it's just golf, meet some nice and some not so nice people. Don't let my ego come in.
My temper is in control – So I have been told.
And the GOLF has improved. But I still wonder, why do the trees come into play???
Author- Mr Amit Misra: Mr Misra is a fond golfer and plays regularly the Noida Golf Course. He commands a handicap of 8 and loves competing at senior amateur tournaments.
Stay tuned for more from this column in the coming weeks, brought to you by Golf Garage. We invite all readers to send us relevant Golf articles that they would like to write, if it is relevant to Golf, we will be happy to publish them here. You can mail us on golfgarageindia@gmail.com  
  
---