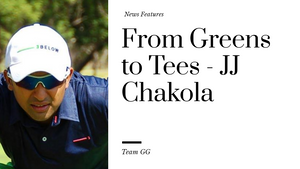 From Greens to 'Tees'
Even while JJ Chakola was playing the best golf of his life, a thought lurked, which unknown to him, would be a lifeline when he found himself at a crossroad some years down. But till that happened, JJ, now 35, played freely, driven by the belief that the sport had something special in store for him. Why not; considering he started at 12, the rise was quick for the Coimbatore boy. After figuring among the top-three in juniors on the Indian Golf Union's merit list, Chakola was anointed the top amateur in 2006. The accolades kept pouring in and got bigger. An amateur's ultimatedream is to turn up in an India blazer at the Asian Games and return with a medal, and Chakola's wish came true on a wet December morning at Dohain 2006. Teaming up with Anirban Lahiri, Gaganjeet Bhullar and Chiragh Kumar, JJ landed the country's first team medal, a silver, at the Games in 25 years.
Within a year he turned professional and made his debut at the country's biggest pro event, Hero Indian Open, on an invite from the sponsor Pawan Munjal. Chakola was living a dream, one that was as bright as his clothing on the golf course. Gung-ho going into that week at the Delhi Golf Club (DGC), JJ relived the build-up. "We had had a great outing the week before at the Nomura Cup in Chinese Taipei (his last amateur event) where Anirban and I finished the best Indians. From that high to my pro debut, I went in with the belief that I would be the next big thing in Indian professional golf."
The switch from amateur to professional golf was yet to register. JJ had a great practice round at DGC and warmed up well at the range before tee off. But a quadruple bogey on the opening hole of the Lodhi Course sent JJ into a free fall from which he never quite recovered. Stumbling all the way to 2012, save for the odd top-10 finish on the Professional Golf Tour of India (PGTI) or "the bump of confidence" on winning qualifying schoolin 2008, the genial golfer reached a stage when he stopped enjoying the thrill of teeing up. "Everything I did appeared to backfire and I could not put a finger on what was wrong." From changing coaches, going abroad for golf lessons, visiting psychologists/neuro-lingual trainers, JJ's attempts at arresting the slide came to naught.
Change was on the horizon and the thought JJ had harboured all these years was about to take over. Picking himself up from a state where applying sun screen before tee off gave him the jitters over what lay in store on the golf course, JJ stopped.His lookout for a diversion and sponsor Dr Prashant Koneru's search for an able hand had JJ moving to Chennai to head the business development of Koneru's mobile app start-up. It didn't take long to figure out that a 9 to 5 desk job wasn't for one who loved the sun beating down on him.
Amid the churn, there were days when JJ thought of giving shape to his long-standing desire. "Even when I was playing I wanted to start a golf clothing line which was top quality but affordable." With an eye for labels and affinity for vibrant colours, JJ often had to hold himself back because of the price tag. Unaware of what lay ahead, JJ embarked on a journey with "minimal capital and some savings". All he could rely on was acquaintances in the golf fraternity and his mother's know how of the garment industry. Thus, was born 3 BELOW in 2014.
With the single-point agenda of supplying top-notch quality golf apparel at a price less than half of established global brands, the going wasn't easy. "For a start-up it was a challenge to find vendors willing to supply raw material in small batches. Often, I had to convince them of my story and sell it," said JJ.
Sourcing raw material from different suppliers to a not-too broad capital base, the challenges are diverse but six years down JJ loves the journey. "Being an entrepreneur is like putting out a fire every day," said the graduate in commerce from Delhi University. There is ground to be made but the biggest takeaway for JJ is achieving what he could not on the golf course --- a foothold. "From one who could not make it as a professional to becoming the official apparel partner of PGTI for the 2018-19 season and Hero Indian Open for two seasons is a story of stumbling and recovering, a new door opening up after one had shut," said JJ.
From catering exclusively to golfers, casual and professionals alike, to covering sports like tennis and squash, JJ now also counts top corporate among his clients. To further the reach of the brand, products are customized as per a client's requirement.
JJ will soldier on having found his mission in life but his story is a lesson for those who refuse to move out of their comfort zone despite getting stuck in a rut. "As humans, we are wired in a way that even if we fall, we will get up. The fear of failure shouldn't hold you back," said JJ.
Team GG
---