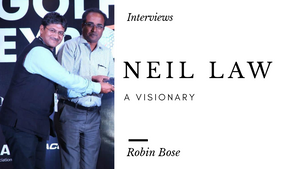 Neil Law- A visionary
As the saying goes 'one thing leads to another', golfer and entrepreneur Neil Law joined hands with the Housing and Infrastructure Development of Bengal (HIDCO) in 2013 to start amusement and sports activities in a 500-acre area of the Ecotourism Park in Kolkata's New Town. Since space wasn't an issue, Law later on proposed a golf facility where visitors could also hit balls and get a feel of the sport. Thus, was born 'Golf For All'. Golf Garage caught up with Law to get an insight into his unique project. 
Excerpts from an interview:
What was the incentive behind setting up Eco Park?
Since I had the experience of conducting adventure activities like parasailing, sea kayaking, coastal treks and rope activities at Mandarmani, a weekend seaside resort about 280 km from Kolkata, there was an opportunity to start similar adventure activities at Eco Park and spread awareness since it is situated close to the city and people were likely to use the facility.
The journey till the inauguration of the golf facility at Eco Park
The biggest challenge was to convince the authorities to agree to a golf facility as the sport is considered elitist and Eco Park is a place for common people. In 2015, we put up an ornamental tea garden housing a tea lounge with a lawn area next to it.This was ideal to start a nine-hole putting green. Planters and tea lovers started to visit the place and the tea tasting and putting programmes we organised became popular. After getting past the first hurdle, the second challenge was to get land for the driving range. One day, I teed up in an open space and had Mr. Debasish Sen, chairman of HIDCO the government agency developing and managing Eco Park, observing my shot. I hit a decent drive of about 270 yards and we walked to where the ball had landed. I moved another 30 yards and put a marker to establish my requirement for a 300-yard driving range. After a week, Mr Sen's office called me to give the good news that the land had been approved but it had to be transferred to HIDCO since it was under the forest department.
I was asked to submit an expression of interest for the project, and since my knowledge was limited I sought the help of international golfer SSP Chawrasia to set up the facility where all could come, train and play. SSP referred me to Sandeep Verma to get an idea of what to do. This was a big help as I could work on a structured model.The driving range and academy started in June 2017, and with the authorities convinced by now I requested them for setting up a nine-hole course with all the elements of a big course.A compact cost effective design was done and we opened the course on April 13, 2019. This gave a major boost to the concept of pay and play.
Image- From L-R: Varun Sahay(Pro Golfer & Coach), Neil Law, S.S.P. Chawrasia (European Tour Golfer, Arjuna Awardee)
What is the motivation behind letting people learn golf for Rs 200/- a day & Rs1000/- a month? That's almost unheard of?
Since it is human nature to experience and then avail,we have been welcoming visitors to the driving range to come and hit balls for an affordable price and get a hands-on experience of the game since golf in Kolkata has been restricted to the Royal Calcutta Golf Club and Tollygunge Club. This will create awareness about the Eco Park Golf Arena (EPGA) as visitors will post pictures on social media and get more people to join the training programme. As the golf community grows,we will move towards my vision of 'Golf for All'.
How do you think this will help spread golf in the country?
'Golf for All' is a programme I have taken to schools by setting up some home training equipment so that students can learn the basics as it might not be possible for a lot of them to come to Eco Park.But once interest develops, they can come on weekends and train at EPGA. I am also training and supporting young people from underprivileged sections to become trainers, golfers and caddies.By this, we are getting more people from different sections of society to get involved in golf and create work opportunities. This is a model which can be replicated in other parts of the country.
Author: Robin Bose is the top most golf journalist in India. He writes regular features for Golf Garage website. You can also find him via his social media handle @thegolfinghub 
---